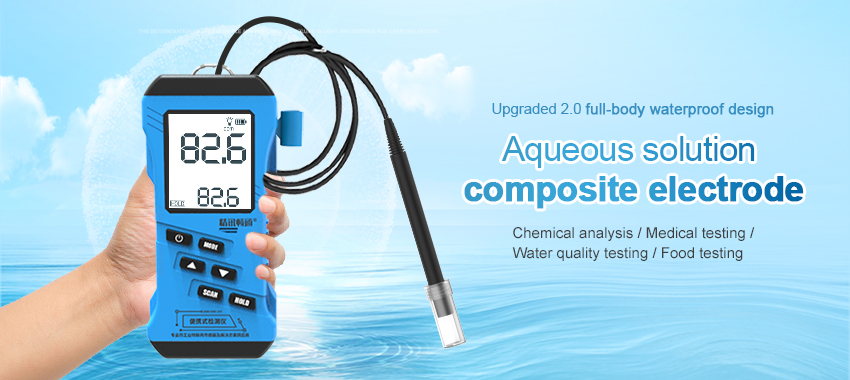 Description:
Aqueous ion composite electrode is a new type of composite electrode improved from the existing two electrodes-ion selective electrode and reference electrode. Not only the accuracy is greatly improved, but also the operation is simple, no professional knowledge is required, and no relevant operating experience is required. Personnel can also use it easily; the aqueous solution ion composite electrode also has a small sample amount of the tested solution, and can measure the amount of ions on the surface of the object at the same time. The reference electrode does not need to add electrolyte solution, the liquid junction potential is stable, easy to install, and the electrode performance is stable , Reliable use and other characteristics.
Operating mode:
The solution ions are adsorbed by the diaphragm to produce a potential difference, and the electrical signal is transmitted by the wire. At the same time, the reference electrode provides a stable reference potential value (the potential value does not change). When the solution concentration changes, it will cause the diaphragm potential value to change, so it can Determine the concentration of the solution by detecting the potential value. The internal reference electrode forms a loop through ceramic points for ion exchange.
Species:
The aqueous solution composite electrode is divided into PVC membrane and crystal membrane ion detection electrodes.
PVC membrane :
Applicable ions: potassium ion electrode, calcium ion electrode, sodium ion electrode, nitrate ion electrode.
Features:PVC ion exchange membrane has the advantages of simple preparation, easy film formation, good selectivity, wide linear range and high service life. PVC membrane has a good effect on ion sensing.
crystal membrane:
Applicable ions: chloride ion electrode, copper ion electrode, cyanide ion electrode, cadmium ion electrode, fluorine ion electrode, bromine ion electrode, silver sulfur ion electrode.
Features:The crystal membrane can be measured intermittently at
80 ° C, with a long service life of 3-5 years, and the membrane material is relatively simple and easy to obtain, so it is more suitable for practical use.
Application:
Aqueous ion composite electrode is suitable for laboratory/medical inspection/chemical fertilizer/agricultural products/food/tap water and other occasions.